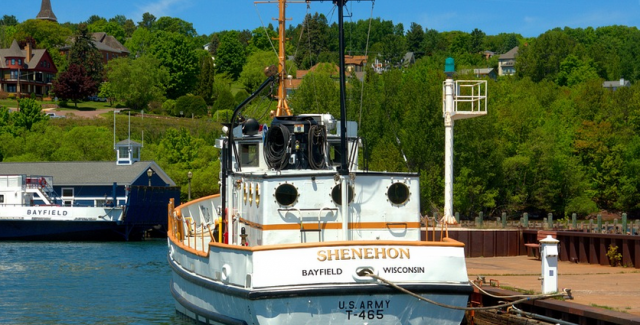 Welcome to the enchanting land of Bayfield, WI, where the lakeside beauty, Scandinavian charm, and outdoor adventures blend seamlessly. In this blog post, we'll take you on a whimsical journey through "Howl Bayfield," where you can indulge in wolf-inspired wonders, explore Joanne's Scandinavian treasures, embark on treks and trails, and wash it all down with local brews. So, grab your hiking boots and prepare to "howl" with laughter and excitement!
Howling with Wolves at "Howl Bayfield"
Discover the Wolf's Den
Nestled on the shores of Lake Superior, Bayfield is home to the iconic Wolf's Den, a sanctuary for these majestic creatures. Get up close and personal with wolves while learning about their vital role in the ecosystem. Don't be surprised if you find yourself "howling" with joy as you witness their playful antics.
Wolf-Inspired Dining
Feeling hungry? Head over to the Wolf's Den Café, where you can savor delectable wolf-themed dishes like "Alpha Tacos" and "Lone Wolf Burgers." It's a dining experience that's equal parts wild and delicious!
Joanne's Scandinavian Treasures
A Scandinavian Wonderland
In the heart of Bayfield, you'll stumble upon Joanne's Scandinavian Treasures, a whimsical shop filled with Nordic delights. From intricate wooden trolls to cozy sweaters, this place has everything you need to embrace your inner Viking (or just keep warm during Bayfield winters).
Lighthearted Souvenirs
Don't forget to grab some lighthearted souvenirs, like a "Sasquatch vs. Troll" coffee mug or a "Viking Helmet" keychain. They'll serve as a reminder of your unforgettable visit to Bayfield.
Trek and Trail Bayfield
Hiking Heaven
Bayfield is a hiking paradise, and Trek and Trail Bayfield is your go-to resource for outdoor adventures. Whether you're a seasoned hiker or a novice explorer, you'll find trails suited to your level. Just remember to pack your sense of humor and your favorite "wildlife spotting" stories.
Sasquatch Scavenger Hunt
For a touch of whimsy, join the Sasquatch Scavenger Hunt organized by Trek and Trail Bayfield. Who knows? You might just stumble upon the elusive creature while searching for hidden treasures in the woods.
Breweries Near Bayfield, WI
Cheers to Local Brews
After a day of wolf encounters, Scandinavian shopping, and hiking hijinks, it's time to unwind with a cold one. Bayfield boasts a vibrant craft beer scene, with breweries like Bayfield Brewery and Deep Water Grille offering a wide range of brews to tickle your taste buds.
"Squatch Sipper"
Don't leave without trying the local favorite, the "Squatch Sipper," a brew that pays homage to Bayfield's friendly neighborhood Sasquatch.
Conclusion: Howl Bayfield, Laugh Bayfield!
Bayfield, WI, is not just a destination; it's an experience that blends natural beauty with whimsical charm. From howling with wolves to shopping at Joanne's Scandinavian Treasures, embarking on treks and trails, and sipping brews, your adventure in Bayfield will be nothing short of legendary.
So, pack your bags, your sense of humor, and your appetite for fun. Bayfield is waiting to make you "howl" with laughter and unforgettable memories!